The League
The teams compete for various trophies, Monday nights usually for the League competitions and Thursdays for the knockout Cup, Pairs, Fours and Individual competitions.
All the teams presently shooting are based in licensed premises which lends itself to the social side of the sport. There are strict safety rules in being which must be adhered to. The League prides itself in never having an accident relating to personal injury. The teams own club rifles and new members are encouraged to use them at least for their first season, instead of purchasing their own. Second-hand rifles can be bought from around £200, with new rifles starting at £700 – it's a lot of money to lay out before you have made up your mind to definitely take up the sport seriously.
The cost of the sport is very reasonable, with adult members at present paying a direct annual membership fee to the League of £30, whilst child membership is £11, (please note that the fee includes third party liability insurance) and the individual clubs then add a little for their own running costs. First year's membership is half price and you will need pellets. We also take pride in the fact that we can deliver free on site coaching to all new members by our NSRA qualified club coaches.
The League has trophies for Teams, Seniors, Ladies and Juniors; it is one of the few sports where a female competitor can compete on equal terms with a male. There are handicap competitions where all members compete on level terms. The maximum number of competitors to shoot in one match would be ten aside in a League match. There is also a League for six aside, the average League match starts at 8pm and would finish around 10:30pm.
The shooting is from a free-standing position without the use of slings or any other artificial support, over a range of 21 feet. Members of opposing teams take turns to shoot at a five inch white metal plate housed in a metal box. The target plate is engraved with circles and painted with a white oil paint which stays wet throughout the competition. After each shot the pellet impression is painted out so the next competitor has a clean target. In the centre of the plate there is a 3/8 inch diameter hole with a bell behind; if a pellet or part of the pellet travels through the hole the bell will ring. Each competitor has eight shots in a match, one sighter and seven to count.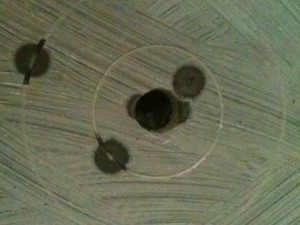 All League members are insured against personal injury and third party liability costs